Chicago-based solo project Slack Armada brings together ambient, post-rock, electronica, downtempo and shoegaze to create emotionally rich, transcendent soundscapes in his debut self-titled EP.
The first thing I noticed about it was the album cover. The bold red version of what seems like a Gothic cathedral dome definitely stands out as quite original and abstract work.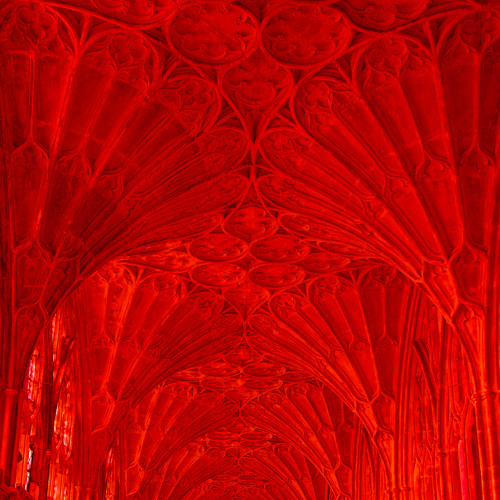 The sound wrapped inside switchеs from dark and gloomy to lively and vivid, to glitchy and noisy and all this flows beautifully natural. James Hrabak's project started on outer realms of indie rock via shoegaze and noise-rock, until he decided to create Slack Armada. "There was an aligning of the planets," the Chicago-based composer, producer, multi-instrumentalist says with a chuckle. "For me, this project feels a lot like waking up, like a rebirth." The four all-instrumental tracks will caress the senses of fans of artists such as My Bloody Valentine, Boards of Canada, and Mogwai.
However, a distinctive difference of Hrabak's work is the use of beats as a primary compositional tool. "The absence of vocals wasn't a conscious decision at the beginning", the artist explains "As I was building up the tracks, I thought 'Maybe I can make the music speak to somebody without the additional guide of a human voice.' I wanted to let the listener be transported with fewer guideposts."
The EP opens with the dreamy shoegaze-influenced "Rebirth",
followed by the layered chambered sound of "Your Majesty".
My favorite track of the EP is probably "Loopy" with its darker, post-rockish sound.
The EP finishes with "Escape Velocity" described by one of the artist's Soundcloud followers as "crunched up disco-videogame-80s-amstraddy-sweet sounds".
Overall, Slack Armada's debut EP sounds promising and I'll stay alert for his future work. "This debut is a great foundation for what's to come." Hrabak says, reflecting back. "I have so much music cooking now – and I'm very excited about what's coming next."
More about Slack Armada can be found on www.slackarmada.com, Facebook, Twitter, Soundcloud and ReverbNation. Check out also James Hrabak's blog and Instagram.